Chilean president met with mining executives at the Cesco dinner which took place in Santiago.
(Ver más)
Mercedes and Manquiri mines were closed.
(Ver más)
The company owns Chile's largest coal reserves
(Ver más)
Exports totaled US$1.444 billion during the month.
(Ver más)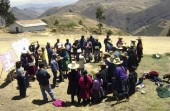 another option would be to find partners to develop the mine.
(Ver más)
Jason Goulden, the organization's director, discussed the Corporation Exploration Studies report, now in its 25th year, which surveys 3,500 companies.
(Ver más)
La economía peruana crecerá a un ritmo de 6,5% en los próximos años, impulsada por los proyectos de infraestructura, minería, las Asociaciones Público Privadas (APP), y la demanda interna, señaló el ministro de Economía y Finanzas, Luis Miguel Castilla.
(Ver más)
Last week the president received in the government palace the leaders of the union federation of Bolivian mineworkers FSTMB, in order to fine-tuning the details of the mining bill.
(Ver más)
The National Environmental License Authority has inspected the port to revise the development of the project, the only pending requirement to resume exports.
(Ver más)
The general secretary of the mine workers' union, Carlos Roman, said that around 900 out of a total of 1,200 had stopped work.
(Ver más)